Transformation through Inclusion
At MUFG, inclusion is a value marked by an appreciation of the contributions of every employee.

Our inclusive culture is combined with a commitment to building a diverse workforce. We welcome the unique perspectives of individuals with varying cultural backgrounds and life experiences – each bringing new ideas and innovation, each fueling our transformation in a shifting industry.

Our strategy of diversity, equity, and inclusion (DEI) focuses on moments that matter most to our current and future colleagues: hiring, developing, recognizing, and rewarding talent at every level. These are the moments that embed inclusion into the fabric of our business.

This strategy begins at the top with inclusive leadership. It extends to relationships with diverse communities through DEI education and awareness. And it ultimately impacts our clients by enabling us to respond to their changing needs, enhance business opportunities, and achieve transformational growth.
 
Enterprise Resource Groups
A goal of MUFG ERGs is to encourage our entire organization to embrace inclusive behavior and diverse perspectives and build momentum for our values and vision. ERGs provide a valuable service to our organization and our clients by:
Promoting personal and professional development through networking and mentorship
 
Building community connection
 
Bringing recognition to multiple dimensions of diversity
 
Assisting with recruitment and promotional advancement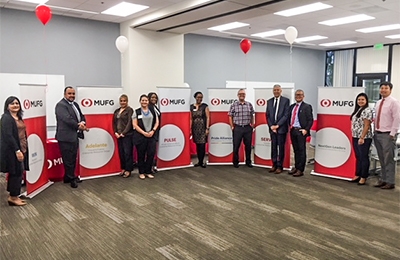 The Power of Partnership
When it comes to DEI at MUFG, everyone plays a part. That's why we built a strong foundation of teams that partner with colleagues across the business to enable and inspire greater inclusion and diversity:
Executive DEI Council: Our EDEIC is comprised of our Chief Executive Officer and the head of each business unit. This group of executives steers the direction of our DEI strategy.
 
Business Unit DEI Councils (BUDEIC): BUDEIC work to establish business-specific goals that link to the overall DEI initiatives. They educate line-of-business employees, encourage collaboration among peers across MUFG in the Americas to share best practices and resources, and plan initiatives in support of the DEI strategy.
DEI Talent Acquisition Team: Our DEI Talent Acquisition Team collaborates and partners with colleagues across the bank to attract the best talent across all dimensions of diversity, to build a stronger performing organization and to ensure our workforce mirrors the clients we serve
 
Enterprise Resource Groups (ERG): Our ERGs bring together people with similar interests, focusing on race, generation, veteran status, gender, and sexual orientation. They give voice to important issues, assuring that diverse viewpoints are heard and considered in decisions that affect our colleagues, customers, and communities.
 
Our Workforce
Our commitment to DEI among colleagues, clients, service providers, and our community includes the following actions:
Instituted a process to ensure that each business unit has a plan to focus on its workforce, workplace, and marketplace, including ownership by the business unit leaders
 
Dedicated resources and funds to philanthropic causes in our communities
 
Introduced DEI training and learning experiences to all employees, with special sessions designed for executives, managers and hiring managers
 

Recent Awards & Recognition
Recent Awards & Recognition
Human Rights Campaign, 100% score on Corporate Equality Index, 2014–2022
 
Bloomberg, Financial Services, Gender-Equality Index, 2017–2022
 
DiversityInc. Top Regional Companies, 2021
 
American Banker "The 25 Most Powerful Women in Banking" & "25 Women to Watch" Lists, 2011–2022
 
Exelon, Honor Roll, Top Financial Services Business Partners for Diversity and Inclusion, 2017–2021