Our History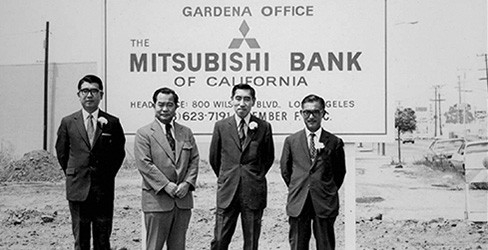 From an early Meiji-era entrepreneur to the California Gold Rush to the Brazilian coffee business, MUFG Americas today is the result of a number of past mergers among successful banks, the earliest predecessor being the establishment in 1864 of The Bank of California, which helped finance the Gold Rush. Mitsubishi Bank and Yokohama Specie Bank (forerunner of the Bank of Tokyo) were established in 1880 by a former samurai after the end of the Shogunate, while UFJ bank, its roots going back to the 17th century, was created in 2002. The Bank of Tokyo-Mitsubishi UFJ was created in 2006. In 2018, BTMU, and its related entities, were renamed "MUFG Bank, Ltd."
Our first office in New York was opened by Yokohama Specie Bank in 1880. BTMU Brazil began in 1926 with Casa Tozan, a banking house established to serve the growing coffee export business. Our presence in the Americas grew, with offices opening in 1954 in Canada, Argentina in 1956, Peru in 1964, Chile in 1978, and Mexico in 1995.
The bank has survived economic recessions, wars, terrorism, and natural disasters. Despite these adversities, we thrive because of our sound business practices and conservative approach to risk management. Today, all of our businesses operate as members of MUFG, our global parent.
A Few Highlights
We are proud of our origins, which began in 1656. Read more details here.