Looking Ahead at What We Can Expect
The MUFG U.S. Macro Strategy team is dedicated to formulating U.S. Fixed Income views, market strategy thought leadership, and actionable trade ideas for our institutional clients. Headed by George Goncalves, an industry veteran with more than 20 years of sell-side and buy-side experience, the team focuses on rates, MBS, credit, the Fed/global central bank policy, U.S. dollar funding dynamics and all things macro-related.
Learn more
For more information, please contact us:
George Goncalves
Head of U.S. Macro Strategy
New York, NY
1-212-405-6687


usmacrostrategy@mufgsecurities.com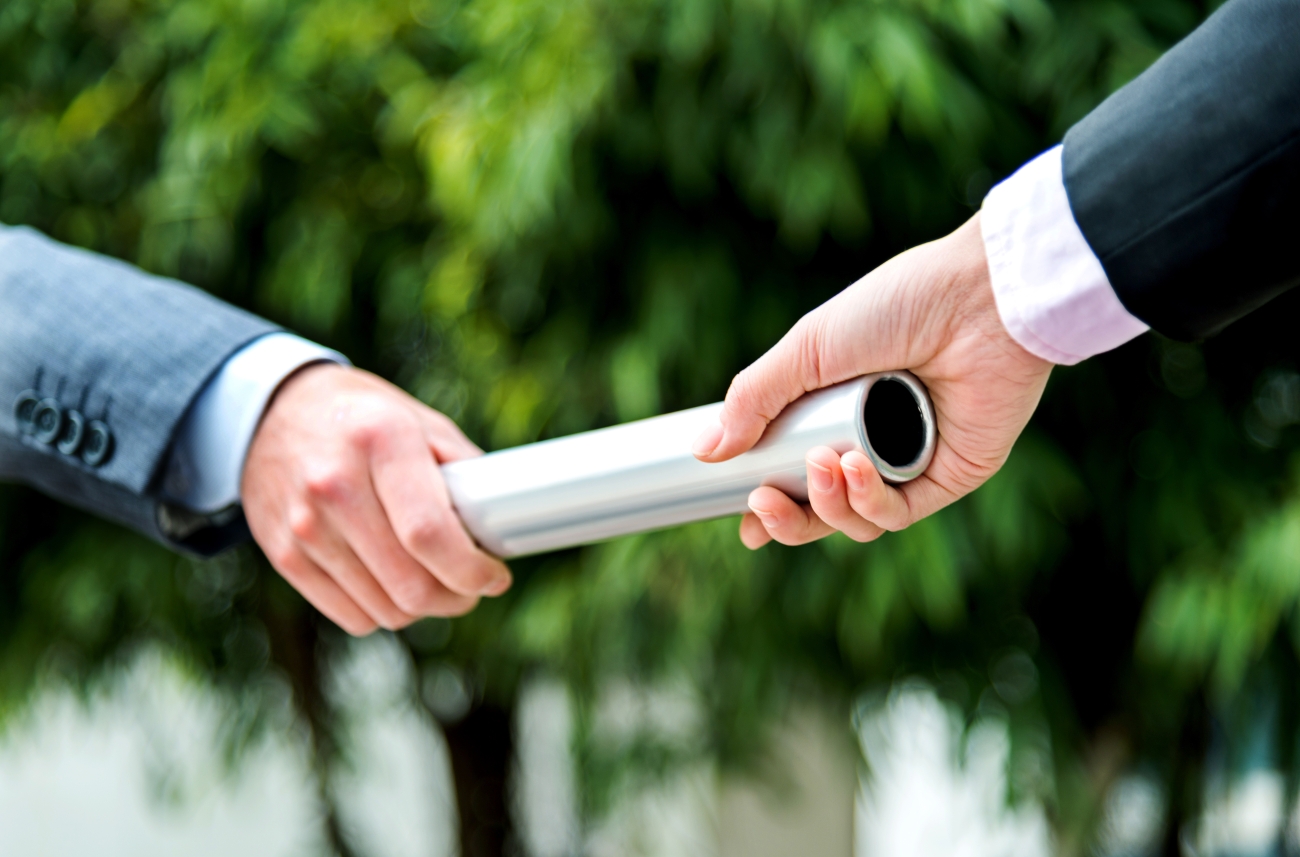 2023 U.S. Macro Strategy Outlook
Read our forward-looking views on the 2023 market outlook in "Passing the Baton: A shift from inflation to growth concerns"
The Money Markets: All about following the cash (which now pays a decent rate, too)
At this stage of the rates cycle, it's all about following the cash in the money market complex and where it goes next. Looking one layer lower, we are able to explore and contrast the developments of the assets under management (AUM) for institutional versus retail money market funds (MMF), where we narrow the regimes based on Fed hiking (pink shaded area) versus easing cycles (green shaded areas). We further highlight 3 periods (red circles) where institutional MMF flow was the canary in the coal mine, if you will.
As one can see by the red circles, the large increases in institutional MMF AUM have typically occurred around a major market event. For example, institutional flows were rising quickly into and out of the GFC (circle 1). Even ahead of the Covid-19 shock (circle 2), there was already a pickup in institutional MMF AUM (even while the Fed was performing insurance rate cuts in 2019). Those institutional MMF balances ballooned further once credit-lines were tapped at the peak concern around Covid-19 shutdowns in 1Q20. Then in the latest bank turmoil (circle 3) the institutional MMFs were recipients of further cash inflows, too.
Outside a minor increase in AUM at the end of what is known as the glacial Fed hiking cycle of 2015-18, overall there was very little increase in AUM for either retail or institutional MMFs since the last time they hiked. Basically, money market fund balances were relatively stable for nearly a decade post the GFC. What changed now? One, the Fed has more than doubled the total amount hikes (500 basis points) from 2015-18 and at a fast clip. Two, the reverse repo program (RRP) has become a viable asset for these money funds to allocate to, and without the Fed's RRP there would not be enough short-term collateral for MMFs.
Which now brings us to an interesting crossroads with the debt ceiling issue behind us. The U.S. Treasury will be replenishing its General Account (TGA), which sits on the Fed's liability side of the balance-sheet via raising cash from T-bill issuance. Ostensibly, some of the funds to purchase hundreds of billions, if not close to a trillion dollars in T-bills, could come from the RRP balances (sitting at over $2 trillion). Funding could also come from banks and/or investors (which would reduce reserves). At a minimum, this will result in a crowding out effect and at a maximum level, drain market liquidity. Given some areas of the banking system remain fragile and in need of funding, its critical to watch how this plays out over the summer.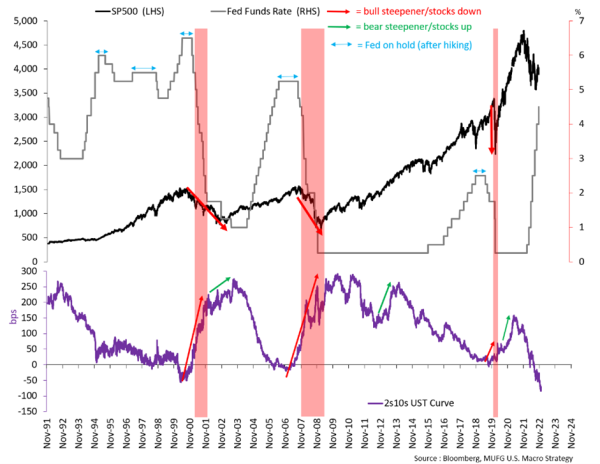 Mind the gap (lower) when the curve (bull) steepens
The best thing to happen, some folks say, is the Federal Reserve stops hiking and then turns around and eases. We attribute that to the pattern of the last decade. Otherwise history would argue otherwise. 
Contrary to popular opinion, stocks have tended to perform better when the curve has been flattening versus when it's steepening. That said when bear steepeners occur, mid-cycle, where earnings prospects are improving (and it is linked to a strengthening economy) that is really the only time where higher long-term rates can co-exist with stocks performing. Meanwhile if curves bull steepens (i.e. short-term rates fall faster than long-term rates) that has historically coincided with some of the worst equity market performance. Beware of the Fed pivot.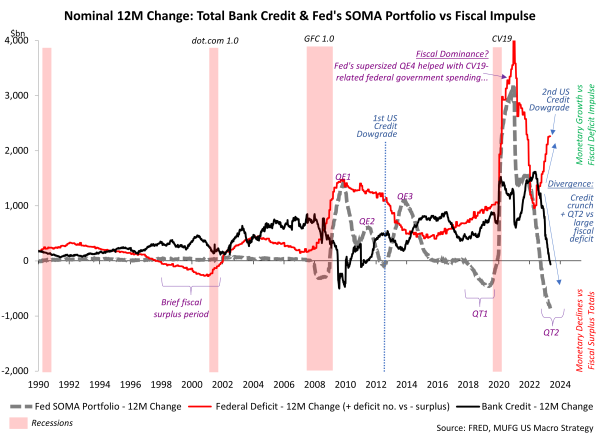 Fiscal policy offsetting Fed tightening and banking credit contraction?
After a brief period of surplus in the 90s, U.S. deficits (inverted here) have been growing since the dot-com experience. In the past, U.S. fiscal agents have only intervened during economic slowdowns (to offer fiscal stabilizers to help damp any major economic shocks) as seen post the 2007-2009 GFC and to an even larger extent in response to the CV19 pandemic. 
The Fed is now double-tightening ("hikes + QT") and U.S. banks are tightening credit availability/standards. However, this is being partially offset by large fiscal spending.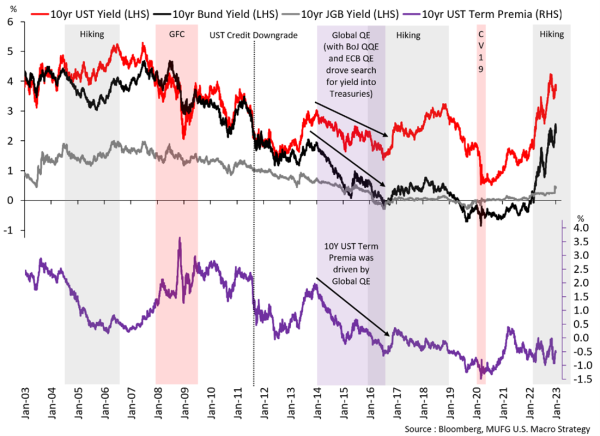 G3 rates rise
If global rates push up U.S. Treasury yields higher, it could lead to a buying opportunity. In our view U.S. rates will have at least one more sell-off before a proper move toward lower rates can begin.
As seen in the chart, from 2013 through 2016, once the Bank of Japan enhanced its QE program (and then went to Yield Curve Control) and the ECB embarked on QE, U.S. rates also declined as term premia in the 10-year sector was driven lower by the reach for yield post the onset of global QE. Not even the last hiking cycle of 2015-2018 was about to reverse the steady decline in term premia on the US curve.
One can barely make out the spike higher in Japanese Government Bond rates but its happening as policies change and all global rates push up against each other up. EUR rates have been under pressure all year. As overseas rates climb, on balance that suggests that investors in other jurisdictions will keep capital at home, versus seeking higher yield in USTs. This should reintroduce term premia into U.S. 10s.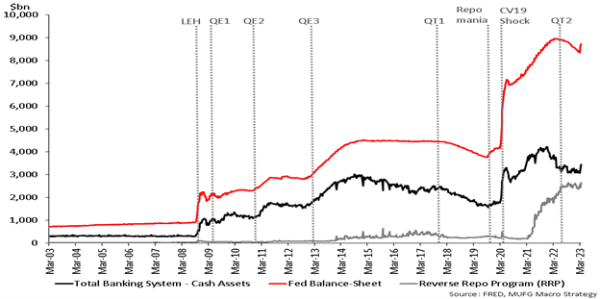 The evolution of the Fed's balance-sheet and other general liquidity dynamics
There's been a great fanfare about the Fed's balance-sheet having grown again due to the launch of the BTFP program and Discount Window usage. However, there needs to be a distinction made between temporary liquidity injections that are backed by HQLA collateral versus permanent increases in reserves via outright QE related buying. So long as the Fed does not resort back to QE, then these recent liquidity operations actually show that the financial system needs support due to deposit migration.
For over a year, initially likely first by choice – as the re-introduction of the SLR requirement pushed institutional cash out of the banking system –  and then later by force – as depositors searched for higher rate alternatives outside of the banking system – deposits have been leaving the commercial banking world towards money market funds. This phenomenon helped contribute to the large rise in reverse repo program balances, which shows that the general liquidity dynamics were already changing. It is likely what has been set in motion will continue unless banks raise deposit rates or the Fed cuts rates.
Our approach to analysis
Our U.S. macro strategy team's four-pillar approach uses analytic tools and various databases to pinpoint what will motivate investors to reallocate assets, or to deploy new or different trading strategies. These techniques, along with historical market perspective, give a complete macroeconomic picture for our coverage teams and SMEs, and for our clients.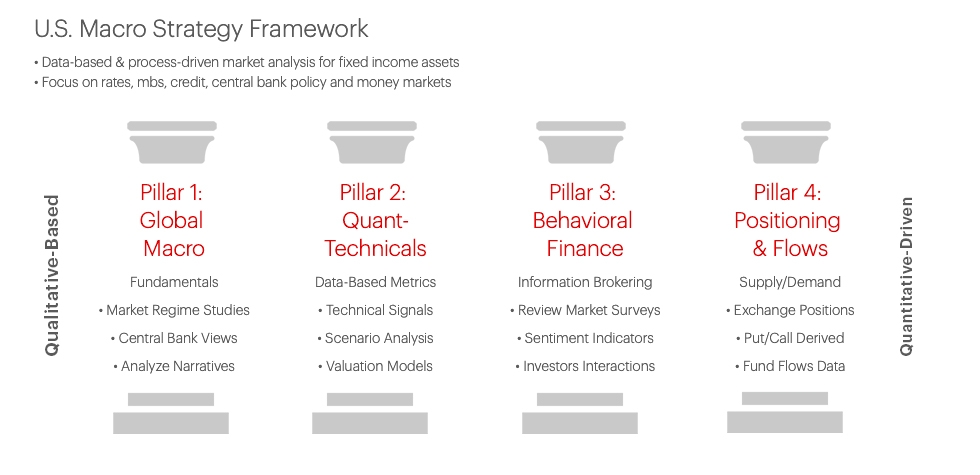 George Goncalves
Head of U.S. Macro Strategy
New York, NY
1-212-405-6687
The head of our U.S. Macro Strategy team – George Goncalves – is an industry veteran with more than 20 years on the sell-side and buy-side. George joined MUFG in April 2021 as head of U.S. Macro Strategy with a mandate to formulate U.S. Fixed Income views, drive market strategy thought leadership, and actionable trade ideas for clients. He focuses on rates, MBS, credit, the Fed/global central bank policy, U.S. dollar funding dynamics and all things macro-related.
George spent nearly a decade at Nomura Securities, first as the chief U.S. Rates Strategist and later as the Head of U.S. Fixed Income Strategy. Over his tenure at Nomura, he oversaw teams of analysts covering U.S. rates, U.S. credit and emerging market rates.
Prior to that, George was the Head of Fixed Income Strategy at Cantor Fitzgerald and a senior research analyst at both Morgan Stanley and Bank of America. He started his career in the Fixed Income markets on the buy side at the formerly known Merrill Lynch Asset Management division in institutional separate accounts, analyzing and co-managing portfolios of Treasuries, repo, short-term credit and MBS as an assistant portfolio management analyst.
Earlier in his career, George was voted one of the top 20 rising stars in Fixed Income by the publication "Institutional Investor" in 2007. And throughout his career he has been an active guest on Bloomberg TV and CNBC as well as quoted many times over in the financial press.
Professionally he has interacted with many debt issuers and has established a wide network of institutional investors from FX reserve managers, Bank Treasurers, real money and macro hedge funds.
George received his joint degree in Finance/Economics and Political Science from Rutgers University's School of Management.