Small Business Banking
Small businesses are the backbone of communities everywhere and we are proud to support their growth and development through our work with small business lending, banking, and service offerings. 
In 2020, we were thrilled to be recognized for our work with small businesses, moving from 129th to 11th in dollar volume in Small Business Association (SBA) lending nationally, and from 35th to 1st in SBA lending in California.
Through two of our five strategic pillars, small business and business banking, we are able to work with many organizations one-on-one and tailor our services accordingly, while aligning with core business objectives. 
Our small business banking work falls into four categories: 
Business Banking Credit Center of Excellence 
Small Business Banking with clients with revenue between $0-$10 million annually 
Business Banking for companies between $10-50 million annually
Small Business Administration (SBA), the product group that services the bank.
A key part of our work with small businesses this year was serving as a Paycheck Protection Program lender. We processed 19,777 loans, helping 14,918 businesses stay afloat and retain staff during the COVID-19 pandemic. In addition, $10 million of our proceeds from participating in this loan program were re-allocated into our Community Recovery Program to further assist our communities during this difficult time. 
PPP Loan Distribution
On the West Coast, Union Bank participated in the U.S. federal government's PPP loan assistance program, part of the Coronavirus Aid Relief and Economic Security Act (CARES Act) of 2020. Beginning in early April, we processed 14,000 applications, totaling nearly $2.5 billion in forgivable loans for our small business and nonprofit clients in California, Washington, and Oregon – the equivalent volume of about 18 years' worth of loans in eight  weeks. At the conclusion of our fiscal year on March 31, 2021, we had processed a total of 19,777 loans. The average loan amount was less than $100,000.
PPP Loan Distribution $3 Billion in 2020
This was a holistic effort, involving every group in the bank. Through the dedicated, round-the-clock work of our colleagues, we were able to process every qualified loan application. Every effort was made to help our small business clients during this most challenging time. Our colleagues worked in shifts throughout the night to ensure that information was processed correctly and that each qualifying organization was able to receive the assistance it needed. The calls and notes of appreciation our colleagues received from clients made us feel honored to be a part of the communities' recovery. 
As a result of the PPP loan it received, small business Unique Healthcare for Women was able to keep its doors open. A Union Bank client for over 18 years, the company is owned by Latisa Carson, M.D., the only African American obstetrician and gynecologist and full-time solo private practice owner in San Diego county. 
In speaking about the opportunity, Dr. Carson shared, "The Paycheck Protection Program was able to support the practice during a time when income was uncertain." 
After a busy but successful first two rounds of PPP loan distribution, we bolstered staff and made improvements to overall client experience for the third round, ending the fiscal year with 19,777 loans distributed and helping 14,918 small businesses in total. 
"One thing we've learned from the PPP loan process is that we can really tackle anything if we come together as an organization and remain focused on what's most important to our clients," says Todd Hollander, managing director, head of Business Banking. "We knew we had an important role to play in supporting businesses during this very challenging time. Our entire team feels humbled and proud that we were able to make a difference for so many of our clients as they tried to weather this unprecedented storm. We will carry this lesson with us forever."
Community Reinvestment Act (CRA) Lending and Investment Overview & 2020 Outcomes
To expand community impact, the bank invests on an ongoing basis in Small Business Investment Companies, which then distribute investments in smaller increments to their portfolio companies. In 2020, our investments in SBICs supported 4,166 jobs in multiple communities across our footprint and enabled many companies to offer new benefits and programs, such as diversity and inclusion hiring initiatives. 
Additional mission impact data is provided by some of the SBICs that demonstrate the improvement provided to their portfolio companies' employees through offering new benefits and programs developed specifically when the investment was made. 
SBICs are incorporating diversity and inclusion hiring initiatives at each of their portfolio companies. One, the Homeboy Industry Program, provides training and support to former incarcerated individuals to help them re-enter the workforce and their communities. 
The bank closed $46.25 million in investments in four SBICs and a mutual fund: $10 million in Houston, $10 million in the Dallas assessment area, $7.5 million in the Chicago assessment area, and $18.75 million in the Atlanta assessment area. 
The bank closed $8.5 million in CRA loans to six Community Development Financial Institutions.
Through the SBIC portfolio, MUFG funded $15 million in capital leveraging $313 million in investments into 28 companies through November 30, 2020. 
Our Partnership with Stonehenge Capital
The past year challenged us to think even more creatively about how to leverage our community partnerships to have more of an impact on small business — the backbone of our economy. To that end, we were pleased to partner with Stonehenge Capital, which assists underserved markets, fueling the growth of the small business sector by creating jobs and revitalizing urban and rural communities. Stonehenge Capital is not a typical finance firm — it is a thought leader in investment capital, producing strong returns for investors and impactful social returns for communities. 

Here are highlights of our partnership: 
MUFG made an $8.75 million investment into Stonehenge Community Impact Fund in 2020 to support the bank's Atlanta assessment area; the fund total size is $214 million. 
The fund will focus on lending to companies located in urban and rural low-to-moderate-income communities. 
The loans provided by the fund will be used for general growth; equipment purchases; facility acquisition or expansions; and acquisition, management buyouts, or generational transfer.
MUFG serves as a member of the advisory board of the fund.
Impact will be tracked for job creation, benefits, and any other improvement to job/life quality associated with the company as well as the Economic Impact Analysis model. 
Our Partnership with The International Rescue Committee Center for Economic Opportunity
MUFG engagement with the International Rescue Committee Center for Economic Opportunity began in 2019, when MUFG donated $110,000 to amplify the center's impact in promoting upward economic mobility for low-income refugee and immigrant families. By offering targeted loan products for both consumers and businesses designed to fortify financial resilience, the center is a Community Development Financial Institution that responsibly deploys capital to individuals and business owners of disadvantaged, diverse populations. Each borrower of the small-dollar, affordable loans is required to participate in a financial capability program and financial educational training, providing them with a solid foundation for financial success. 
In response to the COVID-19 pandemic, MUFG partnered with the Center for Economic Opportunity to continue its work and grow its impact. In order to remove physical barriers to the loan application process, the center adapted to a fully remote application and closing process for its loans and expanded to 11 new locations nationally. To address increased financial stresses, the center also reduced its interest rates to zero for all active loan products and launched a new zero percent APR Resilience loan product with no payments due for six months. To support those specifically affected by the pandemic, the center launched a COVID-19 Relief grant program which deployed 397 grants, totaling over $500,000, to the most vulnerable households within the International Rescue Committee's service network. MUFG is proud to stand with the center as it continues to innovate financial products and services designed to promote financial resilience in underserved communities.
Overview of Employee Relations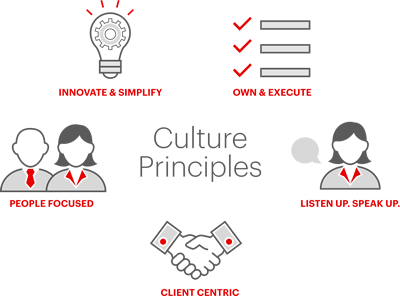 At MUFG Union Bank, we believe that social investments are a manifestation of our values of Integrity, Respect, Service, Collaboration, Inclusion and Stewardship. Strengthening ties to our local communities – coupled with an unwavering commitment to work side-by-side with community partners, clients, and colleagues – forms the foundation for much of what we do. And that work starts first and foremost at home, by putting our people first. 
The core values of MUFG have long been rooted in embracing, supporting and celebrating diversity throughout our more than 150-year history, and we are committed to ongoing work to further strengthen our commitment to inclusion and equity for our colleagues, clients, communities and stakeholders. The events of 2020 required a shift in our Inclusion & Diversity (I&D) strategy and actions to focus more on bank-wide integration with internal and external audiences. In August 2020, we formed an Executive I&D Council, representing voices from Corporate Social Responsibility, Procurement, Talent Acquisition & Staffing, Talent Development & Learning, Communications, business lines and Enterprise Resource Groups across the bank, to ensure colleagues with different perspectives have a seat at the table and are heard. 
The Council is overseen by the I&D Steering Committee, made up of our CEO and Executive Committee for the Americas members. This holistic structure allows colleagues at every level to work together, contributing to I&D strategy and deliverables.  
Council efforts are centered on four key pillars — People, Programs, Clients & Vendors, and Community — and the council is organized into cross-functional teams that are focused on specific objectives and commitments in key areas. The teams are helping to expedite progress of action items, many of which are building on initiatives already underway.
Internally, we strive to create a culture of inclusivity and of belonging, where our 14,000 colleagues are empowered to be their most authentic selves. Our mission comes to life through our Inclusion & Diversity programs, Enterprise Resource Groups (ERGs), Culture Principles initiatives and in the goals and objectives our senior leaders establish for increased diversity among our workforce. Throughout the company, we are working to increase representation in the following ways: 
Talent pipeline (workforce demographics, recruitment)
Talent development (Enterprise Resource Groups, mentoring, career development)
Leadership accountability (responsible for results, communications, visibility)
Supplier diversity (percentage of Tier I and Tier II spend with minority-, women-, LGBTQ+-, disabled, and veteran-owned businesses)
With renewed Culture Principles and a data-driven strategy to guide our efforts, we enhanced our commitment in 2020, including a focus on recruiting, developing, and retaining top talent, especially in underrepresented groups at all levels within the organization. In addition to the importance of fostering inclusion and belonging internally, we recognize that our clients' needs are becoming more and more diverse, and we know that in order to effectively create products and services tailored to our clients' financial priorities, our workforce must reflect that diversity. 
Employee Relief Fund helps colleagues when they need it most
The Employee Relief Fund (ERF) was initially established by the bank in 2017 to provide financial assistance to colleagues affected by a natural disaster. With the onset of COVID-19 in early 2020, some of our colleagues were experiencing an increased need for financial assistance, and we quickly adapted the fund to include national emergencies such as the pandemic.  
Starting with seed money from the MUFG Union Bank Foundation and funded on an ongoing basis through monies contributed by fellow colleagues, the foundation, and business lines, the fund is just one of the ways we support our colleagues. The financial assistance, disbursed in the form of a grant up to $5,000, helps colleagues deal with unplanned expenses not covered by emergency community services or insurance. Whether it is to pay for food, clothing, housing-related assistance (primary residence), transportation, or disaster-related evacuation expenses, the fund provides immediate assistance for colleagues in need.
Since the start of 2020, more than 100 grants have been approved. Colleagues have used the funds to cover expenses such as mortgage or rent payments, insurance, other recurring monthly payments, unexpected childcare costs or other unanticipated expenses related to COVID-19 financial losses.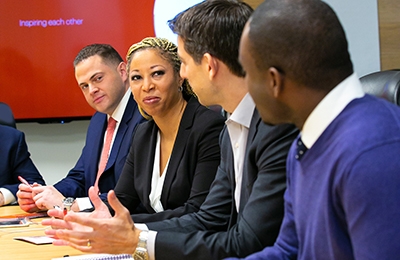 In April 2020, senior leaders within the company held a fundraising campaign, which resulted in a significant increase in support for the fund. More than 315 colleagues made financial contributions. 
Initiating a Speak Up Series to Foster Inclusion
In July 2020, as we navigated the social and racial justice landscape of the year, we created an additional platform — a special-edition "Speak Up" series — for colleagues to tell their stories. Our intent was to encourage honest, robust discussion with many voices and perspectives, as colleagues shared personal and workplace experiences that have shaped them. 
The series sought to enhance awareness and understanding for each other as we strive to build a more inclusive culture that recognizes that every colleague has a distinct story and background. Topics discussed included personal perspectives related to being a Chinese American female, a Black male and the spouse of a police officer. 
Speaking up is a fundamental Culture Principle at MUFG, and the Speak Up series, which culminated in October 2020, inspired open conversations in everyday discussions and has been incorporated into Town Halls, Inclusion & Diversity campaigns, and ongoing communications.