At MUFG, we believe that social investments are an active demonstration of our values: Integrity, Respect, Service, Collaboration, Inclusion, and Stewardship. Strengthening ties to the communities where we work—backed by a commitment to engaging community partners, clients, and employees—is at the core of what we do. This sustainability is a governing factor that shapes all parts of our business.
"Philanthropy is at the heart of our diverse, equitable, and inclusive culture. It's part of our legacy, and has been a key component of our mission and values throughout our company history. With our employees, community and client partners, we will maintain a commitment to building stronger neighborhoods, supporting sustainable growth, and bringing meaningful change to our cities, world, and planet."
- Okeatta Brown, Chief DEI, Culture & Philanthropy Officer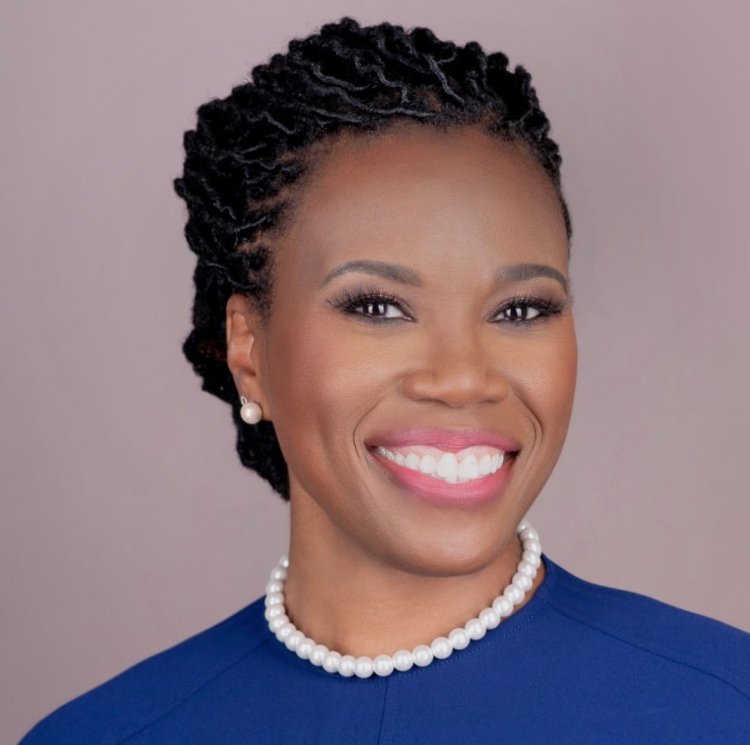 Okeatta Brown
Chief DEI, Culture & Philanthropy Officer
Investing in a More Equitable and Inclusive Society
In 2021, MUFG donated more than $22.8 million to expand access to opportunity and help propel all our communities to a better financial future. We have served as a trusted community partner throughout the the pandemic, responding to the significant and ongoing needs resulting from Covid-19. We have been steadfast in our commitment to greater racial and social justice, particularly focusing on issues of economic justice. Additional investments through our Community Recovery Program enabled us to deliver our our core values of diversity, equity and inclusion into communities. Please read on to discover the impact of our 2021 philanthropic efforts.
Employees engaging the community
In addition to offering grants in the communities in which we work, live, and play, MUFG supports employees by providing time off to serve the causes they care about. In 2019, employees across the Americas volunteered a total of 64,685 hours to help those in need.
Our employees are passionate about making meaningful change in underserved communities, often rolling up their sleeves to address urgent needs. From providing meals to the hungry, to helping build a house for a homeless family, our team members are invested in making a positive impact.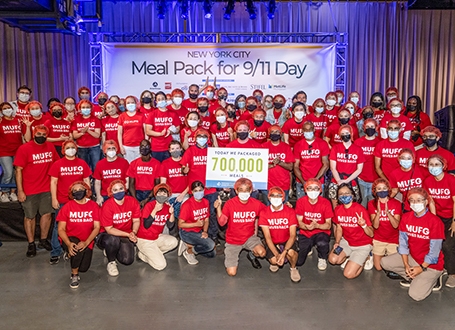 Environmental sustainability
At MUFG, we're working to advance clean-energy technology and provide financial services to companies developing sustainable energy solutions. A large and growing share of our portfolio is dedicated to projects in renewable energy, including wind, solar, geothermal, and biomass, as well as smart metering. In our view, these sectors will play an increasing important role in the world economy.
As a company, we're also taking steps to reduce greenhouse gas emissions and the use of natural resources within our own operations. These steps are part of our overall mission to support a more sustainable society.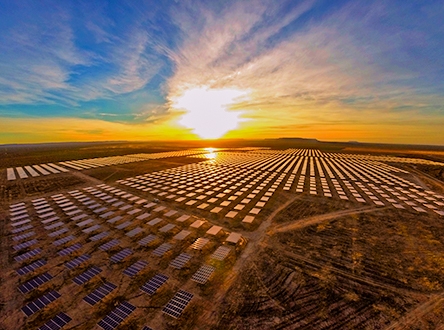 Philanthropy: Investing in our communities
As a lender, partner, employer, and neighbor, we are committed to building a strong future where all of us can thrive. We believe we can achieve the greatest impact on the health of communities by focusing on the following strategic funding goals:
Expanding housing opportunities, including housing development and rehabilitation; emergency, transitional, and permanent house, and public policy.
 
Catalyzing economic growth through support for small business and innovation, job training and career development, and financial education and scholarships.
 
Sustaining human and environmental resources by supporting youth development, basic needs, land preservation and resource conservation, clean water, and clean energy.
Our pledge to communities

In 2016 we launched our third Community Service Action Plan for $40 billion, reflecting our strong commitment to the communities we serve. Available for review by the public, the CSAP details our commitments and pledges in key areas such as:
Philanthropy
 
Environmental stewardship
 
Supplier diversity and development
 
Innovation
 
Workforce and board diversity
 
CSR Advisory Board
International Voluntary Standards
MUFG is aligned with the following standards:
Equator Principles
 
United Nations Environment Programme Finance Initiative
 
United Nations Global Compact
 
Principles for Responsible Investment
 
Carbon Disclosure Project
Sustainable Stock Indices
MUFG is a member of the following stock indices:


FTSE4Good Index Series
FTSE Blossom Japan Index
S&P/JPX Carbon Efficient Index
CSR Annual Reports
The following reports are available on the MUFG website:
MUFG Philanthropic Priorities
MUFG supports local community programs that expand access to opportunity in low- and moderate-income communities where we do business. 90% of our philanthropic investments are devoted to our four primary strategic areas: affordable housing, economic development, social services, and stewardship and sustainability. We are steadfast in our commitment to strive for results that ultimately propel all our communities to a better financial future.
Affordable Housing
Improve housing stability and influence public policy
Economic Development
Catalyze economic growth and prosperity
Social Services
Deliver enhanced quality of life
Stewardship and Sustainability
Promote prosperity while protecting the planet