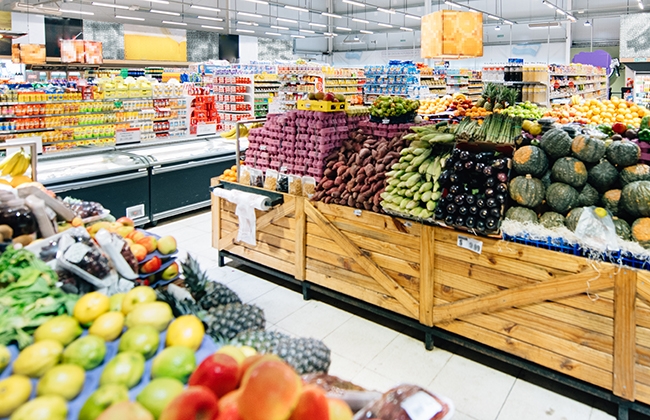 MUFG delivers savings with a streamlined card management approach for a large grocer.
One of our commercial card clients is a large Independent Grocer with stores in the westernmost states of the U.S. This Grocer is comprised of 52 locations (owned by one parent company). Combined they have over 2,000 employees and over $1.2 billion in revenue.
The organization's payables were independently managed through their treasury department, however there were inconsistencies in the types of commercial card programs they used. There were a handful of teams using purchasing card and other commercial card programs, and their ePayables program was not robust and didn't provide adequate vendor matching. MUFG saw this as a significant opportunity to partner.
Opportunity
Through our existing relationship with the Grocer client, we were able to identify an inconsistent approach to card management. The client had challenges with achieving spend goals, negotiating with suppliers, and the oversight of card management amongst various departments.
MUFG saw this as an opportunity for the client to leverage our ePayables and Corporate (Purchasing) Card programs to create efficiencies across departments, enhance working capital management, and provide a comprehensive program rebate. In addition to the significant financial benefits, MUFG was able to simplify reconciliation and reporting with their ERP system, SAP.
The MUFG Commercial Card program would also help reduce their credit line usage, improve transparency and efficiency for their procurement department, and improve their liquidity by adopting an ePayables program.
The final distinguishing factor was our ability to provide a dedicated Card Consultant that provides support from implementation through ongoing maintenance. During implementation, a dedicated Card Consultant works with the Card Implementation team to routinely meeting with the client and help design a custom card program based on the company's unique specifications. After implementation, we meet on a periodic basis to review the program, make adjustments, and track progress against goals.
Solution
The client agreed to enroll in the MUFG Corporate Card program for procurement expenses and the ePayables Card program for accounts payable payments. The MUFG Commercial Card Implementation team collaborated with key stakeholders from the client to create an implementation plan for the company.
A phased implementation approach is currently underway where each entity is treated as a standalone company. In phase 1, we are rolling out the Corporate Card. In phase 2, we will roll out ePayables. Our implementation team holds weekly calls to walk each entity through the process and develop new policies for their respective card programs.
Our Card Consultants have worked closely with the payables department to set annual spend goals, enhance adoption and usage, and develop strategies to enroll vendors in our ePayables solution. We identified 232 potential vendors (14% of their existing vendors) who would be eligible to enroll in the grocer's ePayables program, representing $157MM (34%) of the grocer's $455MM total Accounts Payable file. Client previously spent $5MM annually on their Card program with their prior card issuer.
Spend Analysis for Potential Card Acceptance of $157MM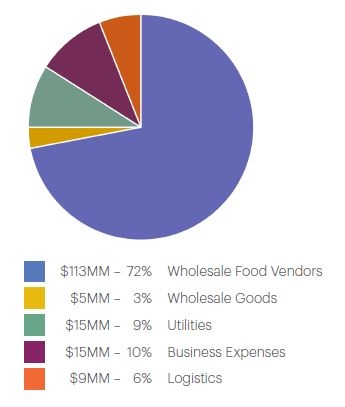 Our Card Consultants analyzed the total annual spend the grocer would achieve under the ePayables program and determined that the annual card spend reduces to $31.4MM, which frees up capital and additional hard dollar rebates.
The largest concentration of spend (72%) is attributed to Wholesale Food Vendors and consists of $113MM in annual spend. At a conservative conversion rate of 20% of the vendors to the ePayables program (largely based off vendor terms), the annual spend for this segment could be as high as $22.6MM.
If we take the same approach for the four remaining vendor sectors (Wholesale Goods, Utilities, Business Expenses, and Logistics), which accounts for 28% of annual spend, or $44MM, this segmentation annual spend could conservatively be $8.8MM per annum.
Along with the hard dollar rebate benefits, additional working capital benefits should also be considered through the extension of the company's Days Payable Outstanding (DPO) which creates additional cashflow and opportunity cost to pay down debt or invest in other financial vehicles.
Working with MUFG, the client has set a conservative goal of $47MM for annual Corporate Card spend, and $61MM for ePayables by year three. The net result is an estimated $1.6MM in net economic benefit generated per annum for the company. This comes from a combination of profit generated from Deposit Payables Outstanding (where they free up $30MM in working capital by extending payables by 10 days), in-house check elimination, and over $415K in annual cash rebate.
Learn More
Contact your Treasury Relationship Manager to learn more about commercial card.