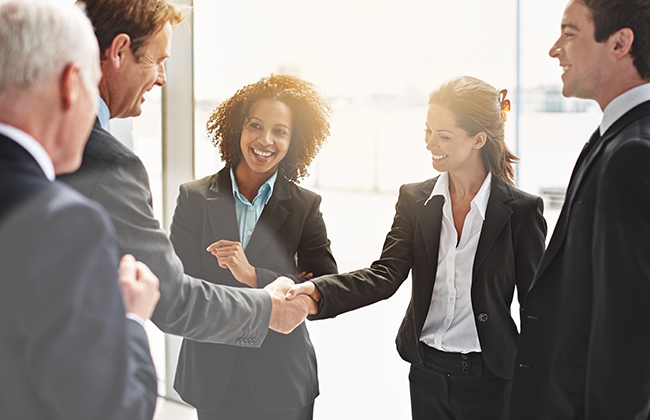 Achieving the optimal ePayables solution: Creating mutually beneficial partnerships
Today more than ever, AP departments are implementing ePayables transformation strategies that both their executive leadership and suppliers can get behind. In a study conducted by RPMG with U.S. senior financial executives, over 75% of ePayables using respondents expect an increase in ePayables spend over the next five years (2018 – 2022).1 Not surprisingly, the Mercator Advisory Group found that B2B check usage continues to decline at a rate of 5% annually, which creates a $200 billion spend capture opportunity.2 CFOs and CPOs are looking to their AP department to seek payment transaction automation opportunities aimed at reducing costs, optimizing working capital management, tightening supplier integration and control, improving accounting efficiency, and enhancing data intelligence. Leveraging supplier relationships and acknowledging supplier impacts are critical to addressing these pressures. Suppliers are more likely to become engaged and participate in a buyer's ePayables program when the opportunity to participate comes with real benefits for the suppliers rather than just another demand being made by their customers.
Embarking on the ePayables optimization journey requires buyers to:
Go beyond the basic supplier enablement process by creating a formula for success that uses a chiseled approach to segment and target suppliers that are best fit for Electronic Accounts Payable (EAP) programs. The common approach of providing a vendor file and then approaching everyone on the list leads to poor results because it lacks a well-thought-out strategy. Companies need to look beyond where purchasing cards and ghost cards have grown and work best, to a point further along the payment continuum where the choice of payment method becomes part of the strategic decision when choosing a supplier.
Create a more comprehensive transformation plan and approach that balances the benefits buyers reap in implementing an EAP system with those that will make sense when negotiating with key suppliers. While buyers are used to striking the best "deal" with their suppliers, they now need to understand that the tables have turned. The benefits of an EAP system will only be realized if the suppliers agree to participate; therefore the buyer needs to plan on convincing its suppliers.
By making it a priority to conduct a more granular supplier segmentation and deeper cost-benefit analysis, buyers can highlight supplier opportunities and address pain points in a much more balanced and equitable fashion.
Combined with other best practices, your EAP transformation plan will be well positioned to target optimal suppliers and reap mutual benefits. Diane Kush, Senior Product Manager at MUFG, advises, "Buyers should look at this as an ongoing strategic process, an opportunity for AP and Purchasing departments to gain corporate visibility as they make longlasting positive impact across their organization."
BUILDING A COMPELLING BUSINESS CASE EVEN YOUR SUPPLIER CAN BELIEVE IN
A new way to look at buyer benefits: As a buyer already using purchasing cards, the benefits from paying your suppliers using Virtual Card Numbers (VCNs) with an EAP system are similar in many ways.
Incremental spend will qualify for rebates and contribute to improved cash flow. According to RPMG, 50% of EAP purchases are for operating expenses and about 21% are for assets. Additionally, half of all respondents had used EAP to pay for a single purchase in excess of $150,000 in the past year, and one quarter of respondents had made at least one EAP purchase in excess of $400,000. They cite different spend categories, higher dollars and number of transactions, expenditures where P-Card is not allowed, or where higher levels of controls/approvals are required.1
Advanced transaction controls associated specifically with virtual cards provide precise spend control and reconciliation capability within a secure environment.
Actionable enterprise-wide spend and supplier analytics improve the ability to leverage greater volume discounts.
Payment automation using EAP reduces processing costs by $26 per transaction compared to check payments according to a 2018 RPMG study.1
Consolidated billing of card payments by your bank will enable payment of supplier invoices on time or even early while preserving "float" or DPO (Days Payable Outstanding).
To capture these benefits, it is important to work closely with your EAP suppliers, structuring an arrangement that benefits both parties. Understanding this connectivity is vital in building an EAP transformation plan, which includes enablement strategies that suppliers will want to participate in. Start by establishing your cast of suppliers: those most likely to accept VCNs, those with whom you can maximize mutual gains, and those most critical to your business. This segmentation process will reveal many of the key factors to explore as you build a "win-win" strategy. By introducing more "balanced" offers, even the more resistant strategic suppliers may surprise you and start accepting VCN payments.
IDENTIFYING AN IDEAL EAP SUPPLIER SHORT LIST
Focusing on key supplier attributes and payment behaviors helps shore up key suppliers and purchase/payment categories that are right for EAP.
Supplier scenarios that can benefit from VCNs:
Purchasing cards already accepted. Suppliers will be more familiar with the benefits and willing to add VCNs to the payment mix.
High dollar / high frequency transactions for non-MRO (Maintenance, Repair, and Operational) purchases or where contracts and invoicing are commonly present as shown in the payments continuum below.
One-off high-dollar purchases. VCNs can eliminate financing and contract requirements and the need to exchange bank information.
High cost of capital. VCNs allow suppliers to access payment funds faster versus more expensive credit options like factoring.
Long payment cycles or DSO (Days Sales Outstanding). VCNs shorten the payment cycle reducing the suppliers' DSO.
Heightened competition. Suppliers may be more predisposed to accept VCN payments to retain and expand business, gaining "preferred" status.
Upcoming contract renewal dates. An EAP implementation plan that includes a schedule of contract renewal dates provides an opportunity to negotiate terms and require payment using VCNs.
EPAYABLES TRANSFORMATION YIELDS TWO KEY OUTCOMES
Successful bottom-line results for buyers and suppliers.
Heightened visibility that can elevate AP into a strategic business unit with the ability to evolve into a profit center.
BEST PRACTICE GUIDELINES DRIVE SUCCESS
Once you decide to optimize your AP process with an EAP solution, following proven guidelines can quicken your implementation readiness and ensure results are thoroughly captured and recognized.
Build a cross-functional strategic team. This should include senior leadership as well as banking and solution partners.
Define goals and success criteria for metrics. Be realistic with setting attainable yet impactful objectives, such as number of checks to eliminate, payment dollar amounts to convert, and percentage of supplier purchases to migrate to EAP. Be specific by including a timeline for converting top prioritized suppliers and forecasts with incremental gain from the transformation.
Develop a holistic business plan. Match your suppliers and purchase categories with different payment options across the payment continuum (e.g., P-Card, ghost card, EAP, ACH, check). This demonstrates a comprehensive approach with enterprise-wide benefits that stakeholders can get on board with. Conduct a deeper analysis that pinpoints and prioritizes ideal EAP suppliers with maximum potential and develop a campaign (or pilot) strategy that showcases how both the buyer and supplier benefit. See further details explored in this article.
Implement the plan (over time, iterative). Flexibility and adjustments in the plan over time are expected. Your supplier landscape as well as corporate objectives will drive the need for change. For example, an acquisition may bring new and/or competing suppliers to your base, opening the opportunity to reevaluate and identify additional EAP candidates.
Measure and communicate results. Track and share success stories to broaden and deepen stakeholder and supplier buy-in.
After identifying your target suppliers, the next step in the enablement process is creating the supplier incentive package. Successful EAP programs develop an offer package for each targeted supplier group and, in some instances, for a specific supplier.
The foregoing white paper is intended to provide general information about commercial cards and is not considered advice from MUFG and MUFG Union Bank, N.A. Certain products and services described in this document are provided by MUFG Union Bank, N.A., a member of Mitsubishi UFJ Financial Group(MUFG), and are marketed under the MUFG and Union Bank® brands. Online applications supporting these products are branded Union Bank. Other products and services mentioned may be offered and marketed by other MUFG entities.

1 RPMG Research Corporation (www.rpmgresearch.net) has been conducting an Electronic Accounts Payable Benchmark Survey every three years. Partial results of the most recent survey, conducted in 2018, are publicly available at: https://rpmgresearch.net/Products-View/product_id=89
2 2019 Mercator Advisory Group, "Commercial Credit Cards North America, 2017 – 2023: Growth and Change Continue", Steve Murphy.
Learn More
Contact Treasury Management Sales at 800-883-0285