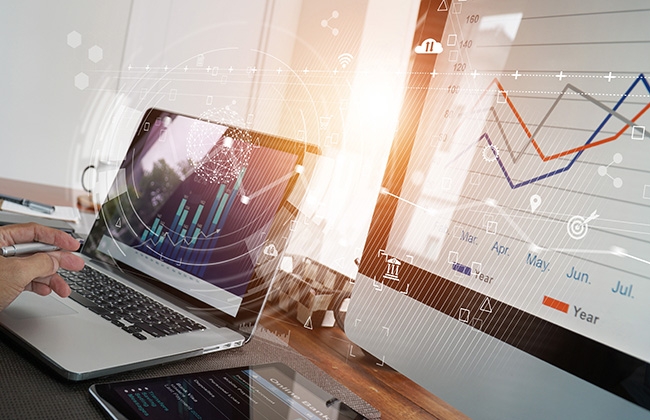 Four Ways Data Drives Digital Transformation Success
Digital Transformation quickly became one of the most popular buzzwords of the COVID era as leaders struggled to navigate the applications, virtualized experiences, and new practices required to enable and manage a remote workforce fully. Yet, even as many organizations have returned to on-site or hybrid operations, the need for leaders to define, execute, and balance how a business adapts to the faster pace of today's digital reality has never been more critical.
At its simplest, Jean-Luc Robert, CEO of Kyriba, sees digital transformation as a catalyst to achieving accelerated business growth with a modern application of talent, smart processes, and actionable data. With hyper-connected solutions enabled by composable, AI-driven technology that unifies data from across the enterprise, modern business leaders can stay ahead of the competition and drive strategy with precision and confidence.
The CEO leads the company to achieve a more competitive and profitable future state and is supported by visionary executives who collectively enable various parts of the CEO's plan. For example, transformation projects that are driven by modern Chief Financial Officers require full visibility of cash flows across the organization in order to optimize liquidity and fund company-wide growth initiatives. Chief Revenue Officers prioritize top-line growth initiatives to enable sales teams with new processes and revenue generation programs. Meanwhile, CIOs often approach digitization, focusing on data unification, recomposing enterprise resource planning (ERP) systems, and complementary applications to form intelligent information platforms.
Regardless of who within the C-Suite is driving change, to make digital transformation successful, executives and their teams must leverage finance as a critical partner to deliver. Here are some things Jean-Luc Robert encourages every business leader to consider as they embark upon a digital transformation journey for their organization:
Return on Investment
CFOs will be the first to share that any business project must deliver a compelling ROI that is benchmarked against a clear and purpose-built business case. Successful projects will demonstrate higher-order improvement to increase strategic output of treasury and FP&A teams while unlocking the capacity to grow the business. Leading companies are demonstrating excellence in their digital transformation projects, and use cases are not difficult to find.
One can simply look to awards from associations such as the AFP Pinnacle award, for example. Winning enterprises consistently demonstrate how technology enables the organization to eliminate legacy systems, improve data accuracy, reduce risk, and ultimately deliver shareholder value.
Jean-Luc adds, "Kyriba, for example, focused on building its enterprise liquidity management platform to unify treasury, payments, working capital, and risk management solutions for CFOs and their teams as this comprehensive practice delivers the most potential for optimizing liquidity, hence accelerating bottom or top-line outcomes. It is this fully connected ecosystem that enables visibility, control, productivity, and data-driven decision making to achieve the enterprise growth strategy."
Automation
Automation should never be the goal of any project but rather an enabler that frees staff time to pursue higher value-added activities. It's the entry-level requirement to unlock time to improve strategy and achieve new business outcomes. Consider Maslow's hierarchy of needs. In that case, automation and productivity are fundamental building blocks in the journey to achieving digital transformation — the ultimate capacity to maximize outcomes and deliver value across the enterprise.
Automation objectives also serve as important early-stage milestones in a project. For example, Gartner states that the path to hyper-automation begins with task automation, which is as simple as it sounds: replacing manual work with automated processes to generate time savings. Task automation is typically delivered by standard features within a single software platform, although sometimes robotic process automation (RPA) may be employed to compensate for in-product deficiencies such as complex calculations or reporting. Further, APIs are cited as the catalyst for automation and composable finance solutions.
There is nothing more powerful than unified data to fuel confidence in agile decision making. And a more comprehensive data set enables a greater capacity to deliver more precision and insight to validate business strategy. If executed well, API-connected solutions and automated processes unlock a wider view of data from across the enterprise. Rather than crunching numbers from disparate sources, the modern CFO has a dashboard of information to visually demonstrate the conditions and financial health of the company. With this data at hand, decisioning is seamlessly communicated to business leaders to improve transparency and alignment among teams.
Process Maturity and Intelligence
To deliver higher value business outcomes, digital transformation initiatives must offer new insights that lead to better decision making. The most effective and mature systems offer more dynamic and integrated levels of business processes to enable CFOs with greater capacity for decision support.
There is an important competitive advantage that digital transformation leaders can achieve over laggards. Using a simple example of currency risk management, it's easy to grasp the competitive difference between a system of record and a system of intelligence.
A system of record details the multi-currency assets and liabilities captured on the balance sheet
An automated system of engagement identifies, extracts, and normalizes multi-currency accounting transactions from an ERP and convert into gross and net currency exposures
A system of intelligence captures the values of a and b, and measures the vulnerability of an organization's income statement to prospective currency volatility to prescribe actions to mitigate potential loss – such as hedging with derivative instruments or business process changes such as invoicing and paying in the same currency
In this last scenario, intelligent data-driven analysis enables corporate treasurers and risk managers to reduce currency exposure to no more than one percent of earnings per share. To put in perspective, the absence of connected finance applications and currency risk best-practices translates to billions in lost earnings every quarter. Digital transformation is a journey to process maturity that enables an optimized use of resources to accelerate business growth.
Value Realization
Quantifying the realized value of digital transformation projects can help both the planning of projects as well as the evaluation of their success. Value engineering teams, specialized task forces that evaluate how projects can deliver ROI, will quantify the benefits of a transformation project against comparative industry benchmarks.
Highly skilled value engineers capture business requirements, measure the impact of those changes in dollar terms, and validate data through a performance maturity framework that measures progression and the financial impact of realizing project goals. The result is a value realization assessment that can be leveraged to monitor progress as a set of project milestones before, during and after the digital transformation is complete.
In summary, it's clearer now than even six months ago that we will continue to live with the COVID-19 pandemic and resulting volatility in the global economy. As many companies are attempting to accelerate growth, they do so with a new level of uncertainty as the new normal has become constant change. While accelerating growth may be a primary objective for CEOs today, unless the right investments have been made to mitigate risk and reduce uncertainty, history is likely to repeat itself.
Countering the challenge, modern CEOs are investing in digital transformation to unlock value at scale for their company. Successful digital transformation projects take into consideration the enterprise as a whole and are built for purpose.
The hallmarks of best practices include a clear and compelling ROI against a specific use case, automation, and advanced connectivity to deliver intelligent data-driven decision making, evolved processes. They are also highly collaborative and feature forward-thinking executives who, like the artificially intelligent algorithms they strive to implement, are learning from data to drive even better business outcomes.
This article was written by Benjamin Laker from Forbes and was legally licensed through the Industry Dive Content Marketplace . Please direct all licensing questions to legal@industrydive.com.
MUFG Americas
Corporate Headquarters
1251 Avenue of the Americas
New York, NY, 10020-1104, United States